WITHOUT ELECTRICAL CONTACTS
- No problems of wear and tear, dirt, damp, salt and dust.
NO INTERNAL POWER SOURCE
- It doesn't require maintenance.
EEPROM TYPE MEMORY
- Longterm storage of data is guaranteed with a high level of reliability.
SAFE
- It cannot be read or duplicated in any way or handled by people not authorised to do so.
RELIABLE
- System of reading and writing data is tested and completely safe.
STRONG
- The electronic circuit is immersed in episodic resin and enclosed in 2 shells of plastic material which are joined with ultrasound soldering.
WATERPROOF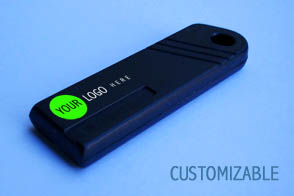 SECURITY



Controlled accesses to houses and buildings, protected zones and reserved areas.
Mains and installations of household and industrial alarms.
Door opening and gate opening systems.
Anti-theft devices for cars.



HIRING AND RENTING



Renting rooms in hotel complexes with access to common places and particular facilities like bars, swimming pools, saunas, tennis, courts etc.
Renting bungalows, apartments, places in camp sites and tourist villages.
Rent a car.




PRE- PAYMENT AND AUTOMATIC VENDING MACHINES



Pre-payment systems for car parks and docks.
Electronic tokens for various uses.
Automatic vending machines with a drop down service.
Video hire.
Access with a limited time or with a system of counting entrances to gyms or sports clubs (tennis clubs, swimming pools, golf clubs) and the use of internal services such as showers, bars, etc).




USE CONTROL OF APPARATUS AND MACHINES



Use enable of photo copiers,faxes telephones and computers.
Use enable of operating machines, special apparatus, machine tools, control panels.
Protected deactivation of systems and apparatus during maintenance.



PERSONNEL MANAGEMENT



Registration of attendance as an electronic file.
Charging canteen consumption.




DATA RECORDING



Electronic card for therapy in the medical field.
Electronic card for gym training charts.
Micro files for configuration parameters and electronic device.